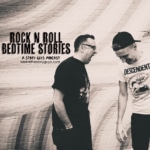 The guys answer listener letters about uses of the F-word, rock n roll inspirations, and fantasy literature as fuel for rock n roll prowess.
This episode brought to you in part by Louder Than Life Music Festival.
Louder Than Life
America's Biggest Rock Festival
Louisville, KY September 21-24, 2023
Highland Festival Grounds At Kentucky Exposition Center
Foo Fighters, Green Day, Tool, Avenged Sevenfold,
Godsmack, Pantera, Queens Of The Stone Age, Weezer,
Limp Bizkit, Megadeth, Rancid, Turnstile & More
General Admission And VIP Passes On Sale Now
Starting At $10 Down
Win Louder Than Life tickets by entering HERE!
Support the show on Patreon: https://www.patreon.com/rocknrollbedtimestories
SHOW NOTES:
https://www.redbull.com/us-en/a-brief-history-of-swearing-in-music
https://slate.com/human-interest/2016/06/a-history-of-swearing-in-music.html
https://faroutmagazine.co.uk/every-led-zeppelin-song-inspired-by-j-r-r-tolkien/
https://www.rollingstone.com/music/music-news/ramble-on-rockers-who-love-the-lord-of-the-rings-100787/