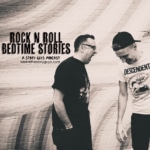 The guys get in a discussion with writer Andy Frye whose latest book asks the question "If you could travel back to 1996, would you even want to come back?" They talk time travel, inspirations, cool aunts and that time Miles Davis almost lost his fancy car.
Support the show on Patreon: https://www.patreon.com/rocknrollbedtimestories
SHOW NOTES:
ANDY FRYE has written for Rolling Stone, ESPN and other publications. Currently, he writes about sports business for Forbes. His latest book is called Ninety Days in the 90s.
Over his career, Andy has interviewed hundreds of athletes, rock stars and other celebrities.
Among the bands and solo artists he has interviewed are Smashing Pumpkins, Oasis, Morrissey, Jimmy Eat World, Rage Against The Machine, and Alice In Chains.
Check out Andy's writing by going to AndyFrye.com
Songs used in this episode:
Butthole Surfers "Pepper"; Led Zeppelin "Out of the Tiles"; Husker Du "Dead Set on Destruction"; Miles Davis "Maiysha"; Noel Gallagher's High Flying Birds "You Know You Can't Go Back"; Starship "Jane"