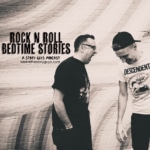 Brian gets an overdue chat with old friend of the show Brett Newski – a multi-hyphenate artistic badass who plays music in a band he calls NEWSKI. He also writes books, paints, and hosts a hell of a podcast of his own called Dirt From the Road.
This episode brought to you in part by Louder Than Life Music Festival.
Louder Than Life
America's Biggest Rock Festival
Louisville, KY September 21-24, 2023
Highland Festival Grounds At Kentucky Exposition Center
Foo Fighters, Green Day, Tool, Avenged Sevenfold,
Godsmack, Pantera, Queens Of The Stone Age, Weezer,
Limp Bizkit, Megadeth, Rancid, Turnstile & More
General Admission And VIP Passes On Sale Now
Starting At $10 Down
Win Louder Than Life tickets by entering HERE!
Support the show on Patreon: https://www.patreon.com/rocknrollbedtimestories
Songs used on this episode: 
Newski – "Chemicals," ""Seek Asylum From Myself," "No Self-Control," "Why Even Bother"