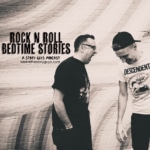 The guys get to chat with The Verve Pipe front man about the movie Rockstar, his relationships with Stephan Jenkins and Jesus, and what it's like being known for a ballad (plus – a WHOLE LOT MORE).
This episode brought to you in part by Louder Than Life Music Festival.
Louder Than Life
America's Biggest Rock Festival
Louisville, KY September 21-24, 2023
Highland Festival Grounds At Kentucky Exposition Center
Foo Fighters, Green Day, Tool, Avenged Sevenfold,
Godsmack, Pantera, Queens Of The Stone Age, Weezer,
Limp Bizkit, Megadeth, Rancid, Turnstile & More
General Admission And VIP Passes On Sale Now
Starting At $10 Down
Win Louder Than Life tickets by entering HERE!
Support the show on Patreon: https://www.patreon.com/rocknrollbedtimestories
Songs used in this episode: "Photograph" and "F Word" by The Verve Pipe