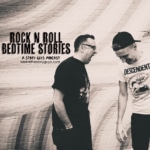 Rock N Roll Bedtime Stories presents a new spin-off series of interviews with the people making the magic happen – working musicians, writers, entertainers, etc.
For the debut episode, Brian chats with producer/engineer/songwriter and guitarist from the rock band The Wonder Years, Casey Cavaliere.
They chat about Casey's rock n roll heritage and his own encounters that have led to some rock n roll rumors and stories to tell.
Check out Casey's website
Listen to Casey's podcast
Check out his band The Wonder Years on Instagram
Songs used in this episode:
"Low Tide" by the Wonder Years; "Repentless" by Slayer; "Harvester of Sorrow" by Metallica; "The Fight Song" by Marilyn Manson; "The Fuzz" by Jeff Rosenstock; "Something to Believe In" by The Offspring; "Came Out Swinging" by The Wonder Years