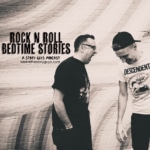 Brian and Murdock get into the lucrative musical partnership that defined a decade – and the misbehavior that undid it. They talk about their commercial country pasts and the man behind the records that taught them about what rock was supposed to sound like.
This episode brought to you in part by Louder Than Life Music Festival.
Louder Than Life
America's Biggest Rock Festival
Louisville, KY September 21-24, 2023
Highland Festival Grounds At Kentucky Exposition Center
Foo Fighters, Green Day, Tool, Avenged Sevenfold,
Godsmack, Pantera, Queens Of The Stone Age, Weezer,
Limp Bizkit, Megadeth, Rancid, Turnstile & More
General Admission And VIP Passes On Sale Now
Starting At $10 Down
LISTEN FOR YOUR CHANCE TO WIN TICKETS SOON!
Support the show on Patreon: https://www.patreon.com/rocknrollbedtimestories
SHOW NOTES:
Songs used in this episode:
AC/DC "Shoot to Thrill," Hocus "Roll Me Over," Ipswich Town FC "Ipswich, Get That Goal," Loverboy "Lovin' Every Minute of It," Dobie Gray "All I Want To Do Is Make Love To You," Heart "All I Wanna Do Is Make Love To You," Shania Twain "Forever and For Always" 
https://www.smoothradio.com/news/music/shania-twain-husband-ex-best-friend-marriage/
https://www.spokesman.com/stories/1996/apr/28/shania-twain-expose-made-big-deal-out-of-small/
https://www.thecanadianencyclopedia.ca/en/article/shania-twain
https://en.wikipedia.org/wiki/Jay_Treaty
"Ipswich, Get That Goal" song – https://www.youtube.com/watch?v=dG0oIBBMBl8
https://urbanpitch.com/looking-back-at-the-greatest-fa-cup-final-songs-of-all-time/
https://en.wikipedia.org/wiki/FA_Cup
Discussion thread about Mutt's influence on AC/DC: https://www.acdcfans.net/forum/comments.php?DiscussionID=15561
https://blabbermouth.net/news/def-leppards-phil-collen-says-producer-mutt-lange-deserves-all-the-credit-for-hysteria
https://en.wikipedia.org/wiki/All_I_Wanna_Do_Is_Make_Love_to_You
https://genius.com/Heart-all-i-wanna-do-is-make-love-to-you-lyrics
https://en.wikipedia.org/wiki/Man!_I_Feel_Like_a_Woman!
https://web.archive.org/web/20091123143156/http://www.rollingstone.com/artists/shaniatwain/biography
https://www.usmagazine.com/celebrity-news/pictures/shania-twain-ex-husband-robert-mutt-langes-split-timeline/