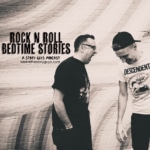 Brian leads a search to uncover the true origin story of his childhood crush – Liv Rundgren Tyler – and gets to crash into an inspirational muse, a legendary producer, and one of the greatest and notorious front men of all time along the way.
This episode brought to you in part by Louder Than Life Music Festival.
Louder Than Life
America's Biggest Rock Festival
Louisville, KY September 21-24, 2023
Highland Festival Grounds At Kentucky Exposition Center
Foo Fighters, Green Day, Tool, Avenged Sevenfold,
Godsmack, Pantera, Queens Of The Stone Age, Weezer,
Limp Bizkit, Megadeth, Rancid, Turnstile & More
General Admission And VIP Passes On Sale Now
Starting At $10 Down
Win Louder Than Life tickets by entering HERE!
Support the show on Patreon: https://www.patreon.com/rocknrollbedtimestories
SHOW NOTES:
Songs used in this episode Weird Al "Livin' in the Fridge"; Aerosmith "Nobody's Fault"; Steven Tyler "Jaded" (Live at Bluebird Cafe), Todd Rundgren "We Gotta Get You a Woman"; New York Dolls "Pills"; BeBe Buell "The Little Black Egg"; Aerosmith "Magic Touch"  
https://en.wikipedia.org/wiki/Alapalooza
https://en.wikipedia.org/wiki/Bebe_Buel
https://www.nytimes.com/2023/05/03/style/bebe-buell.html
Drop Into Max's podcast: https://open.spotify.com/episode/5vnMeebipFkPCN3aLU7aBo?si=f4d4df1ad44b4856
https://en.wikipedia.org/wiki/Todd_Rundgren
https://www.rocksoffmag.com/bebe-buell/
https://en.wikipedia.org/wiki/Aerosmith
https://www.recordplantdiaries.com/2018/03/22/birth-of-a-record-jack-douglas-and-joe-perry-toys-in-the-attic/
https://en.wikipedia.org/wiki/Todd_Rundgren
https://en.wikipedia.org/wiki/Steven_Tyler
https://www.datalounge.com/thread/29919437-why-did-todd-rundgren-claim-to-be-liv-tyler-s-dad
https://faroutmagazine.co.uk/liv-tyler-father-aerosmiths-frontman/
https://www.youtube.com/watch?v=BuRETJjH0Qs