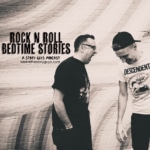 The boys dig into the backstory of an old Taylor Swift song and uncover the histories of some major women in music who thought about leaving it all behind – and one who actually did. 
This episode brought to you in part by Louder Than Life Music Festival.
Louder Than Life
America's Biggest Rock Festival
Louisville, KY September 21-24, 2023
Highland Festival Grounds At Kentucky Exposition Center
Foo Fighters, Green Day, Tool, Avenged Sevenfold,
Godsmack, Pantera, Queens Of The Stone Age, Weezer,
Limp Bizkit, Megadeth, Rancid, Turnstile & More
General Admission And VIP Passes On Sale Now
Starting At $10 Down
Win Louder Than Life tickets by entering HERE!
Support the show on Patreon: https://www.patreon.com/rocknrollbedtimestories
SHOW NOTES:
Songs used in this episode: "Circle of Two" by Steve and Annie Chapman; "The Lucky One" by Taylor Swift; "Sweet Sucker Dance" by Joni Mitchell; "Four Letter Word" by Kim Wilde; "Ode to Billy Joe," "He Made a Woman Out of Me" and "My Dog Sargent"  by Bobbie Gentry; "Fancy" by He Is Legend
Swiftie Dad article: https://www.mtv.com/news/wtuea9/1989-tour-taylor-swift-dads-quiz-louisville
https://en.wikipedia.org/wiki/Red_(Taylor_Swift_album)
https://taylorswift.fandom.com/wiki/The_Lucky_One
https://www.theguardian.com/music/2018/oct/17/bobbie-gentry-trailblazing-queen-of-country
https://www.distractify.com/p/who-is-the-lucky-one-by-taylor-swift-about
https://www.theguardian.com/music/2018/oct/17/bobbie-gentry-trailblazing-queen-of-country
https://en.wikipedia.org/wiki/Joni_Mitchell
https://www.nylon.com/entertainment/taylor-swift-britney-spears-lucky-one
https://en.wikipedia.org/wiki/Kim_Wilde
https://www.greatbritishlife.co.uk/people/celebrity-interviews/20684250.kim-wilde-i-couldnt-choose-gardening-singing-/
https://www.washingtonpost.com/lifestyle/style/all-southerners-come-home–as-has-long-disappeared-music-legend-bobbie-gentry/2016/06/02/3988aba2-28df-11e6-a3c4-0724e8e24f3f_story.html
Bobbie Gentry on Ed Sullivan (1970): https://youtu.be/qg6IjF4Tsa8
Bobbie playing the first song she ever wrote: https://www.youtube.com/watch?v=PhiWVcVjF6A