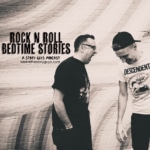 Brian and Murdock celebrate the "Queen of Rock N Roll" – Tina Turner – by examining the giant impact she just might have made on the way rock n roll has looked onstage for the last 60 years.
This episode brought to you in part by Louder Than Life Music Festival.
Louder Than Life
America's Biggest Rock Festival
Louisville, KY September 21-24, 2023
Highland Festival Grounds At Kentucky Exposition Center
Foo Fighters, Green Day, Tool, Avenged Sevenfold,
Godsmack, Pantera, Queens Of The Stone Age, Weezer,
Limp Bizkit, Megadeth, Rancid, Turnstile & More
General Admission And VIP Passes On Sale Now
Starting At $10 Down
Win Louder Than Life tickets by entering HERE!
Support the show on Patreon: https://www.patreon.com/rocknrollbedtimestories
SHOW NOTES
Songs used in this episode: "Rocket 88" by Jackie Brenston & His Delta Cats; "A Fool in Love" by Ike & Tina Turner; "River Deep, Mountain High" by Ike & Tina Turner `
https://www.theatlantic.com/culture/archive/2021/01/tina-turner-proud-mary/617843/
https://en.wikipedia.org/wiki/Proud_Mary
https://www.biography.com/musicians/tina-turner-proud-mary-origins
https://faroutmagazine.co.uk/rolling-stones-mick-jagger-learn-to-dance/
https://www.npr.org/2023/05/25/1178270147/the-genre-bending-influence-and-legacy-of-tina-turner
https://nz.news.yahoo.com/tina-turner-taught-mick-jagger-150109041.html
https://en.wikipedia.org/wiki/Kings_of_Rhythm
https://en.wikipedia.org/wiki/Chitlin%27_Circuit
https://en.wikipedia.org/wiki/Bob_Krasnow
Ike and Tina on The Big TNT Show: https://youtu.be/RrLl1o1shos
https://americansongwriter.com/various-artists-t-m-showthe-big-t-n-t-show-collectors-edition/
https://en.wikipedia.org/wiki/River_Deep_%E2%80%93_Mountain_High
https://www.lamag.com/article/listen-tina-turners-marathon-recording-of-river-deep-mountain-high/
River Deep recording session outtakes: https://tinaturnerblog.com/2011/05/28/ike-tina-river-deep-mountain-high-outtake/ 
https://www.the-world-of-tina.com/rolling-stones—concert.html
1971 Rolling Stone piece: https://www.rollingstone.com/feature/tales-of-ike-and-tina-turner-237489/
Tina and Mick at Live Aid:
https://www.youtube.com/watch?v=9wyuwJP-u9Q
http://rockandrollgarage.com/where-mick-jagger-got-the-inspiration-for-his-dance-moves/
https://www.towleroad.com/2023/05/tina-turner-was-prepared-for-sir-mick-jagger-ripping-her-skirt-off-at-live-aid/
https://etcanada.com/news/994825/mick-jagger-shares-rare-footage-of-himself-and-tina-turner-in-1969/
The Pony dance tutorial: https://www.youtube.com/watch?v=F-I0HEbcrVo
Another Pony dance tutorial: https://www.youtube.com/watch?v=Qhrx5IcPUIw