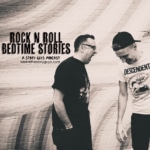 The guys breakdown the long history, core members, and eventual meltdown of the band that helped birth hippies and counterculture and then performed (what some call) the worst song of all time.
This episode brought to you in part by Louder Than Life Music Festival.
Louder Than Life
America's Biggest Rock Festival
Louisville, KY September 21-24, 2023
Highland Festival Grounds At Kentucky Exposition Center
Foo Fighters, Green Day, Tool, Avenged Sevenfold,
Godsmack, Pantera, Queens Of The Stone Age, Weezer,
Limp Bizkit, Megadeth, Rancid, Turnstile & More
General Admission And VIP Passes On Sale Now
Starting At $10 Down
Win Louder Than Life tickets by entering HERE!
Support the show on Patreon: https://www.patreon.com/rocknrollbedtimestories
SHOW NOTES:
Songs used in this episode: "We Built This City" by Starship
https://jeffersonairplane.com/
https://en.wikipedia.org/wiki/Jefferson_Airplane
https://en.wikipedia.org/wiki/San_Francisco_sound
https://en.wikipedia.org/wiki/Marty_Balin
https://en.wikipedia.org/wiki/The_Great_Society_(band)
https://eddiesrockmusic.wordpress.com/2020/05/19/j-is-forjefferson-airplane-flight-log-1966-1976/
https://www.elsewhere.co.nz/fromthevaults/4014/the-great-society-somebody-to-love-1966/
https://www.newyorker.com/news/hendrik-hertzberg/newsweeks-glory-days-mine-too
https://www.theguardian.com/music/2015/may/07/bill-graham-drigs
https://www.nytimes.com/1977/05/13/archives/the-pop-life.html
https://en.wikipedia.org/wiki/Jefferson_Starship
https://ultimateclassicrock.com/grace-slick-quits-jefferson-starship/
https://en.wikipedia.org/wiki/Paul_Kantner
https://en.wikipedia.org/wiki/Nuclear_Furniture
http://alansalbumarchives.blogspot.com/2008/07/review-87-jefferson-starship-nuclear.html
https://ultimateclassicrock.com/jefferson-airplane-jefferson-starship-starship/
https://rockshowcritique.com/2016/03/interview-craig-chaquico/
https://www.artsjournal.com/jazzbeyondjazz/2016/01/whys-nobody-mourning-paul-kantner-jefferson-airplane-flies-forever.html
Play That Rock N Roll podcast: https://youtu.be/MHpMqKfAg5Q