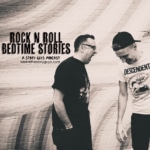 Brian and Murdock answer a listener letter that dives into the duel guitar soloing, drug-fueled brilliance, and lasting impact of Phil Lynnot and Thin Lizzy.
This episode brought to you in part by Louder Than Life Music Festival.
Louder Than Life
America's Biggest Rock Festival
Louisville, KY September 21-24, 2023
Highland Festival Grounds At Kentucky Exposition Center
Foo Fighters, Green Day, Tool, Avenged Sevenfold,
Godsmack, Pantera, Queens Of The Stone Age, Weezer,
Limp Bizkit, Megadeth, Rancid, Turnstile & More
General Admission And VIP Passes On Sale Now
Starting At $10 Down
Win Louder Than Life tickets by entering HERE!
Support the show on Patreon: https://www.patreon.com/rocknrollbedtimestories
SHOW NOTES:
Songs used in this episode: "The Boys are Back in Town" by Thin Lizzy
Jacy's thesis: https://digitalcommons.georgiasouthern.edu/cgi/viewcontent.cgi?article=1659&context=honors-theses
https://en.wikipedia.org/wiki/Jailbreak_(album)
https://en.wikipedia.org/wiki/Phil_Lynott
https://www.mirror.co.uk/news/real-life-stories/thin-lizzys-phil-lynott-wildman-7501874
https://www.telegraph.co.uk/music/artists/phil-lynott-addiction-destroyed-irelands-forgotten-rock-genius/
https://www.irishmirror.ie/whats-on/music/thin-lizzy-midge-ure-lifts-6257341
https://en.wikipedia.org/wiki/Whiskey_in_the_Jar
https://en.wikipedia.org/wiki/The_House_of_the_Rising_Sun
https://www.irishtimes.com/culture/music/thin-lizzy-members-on-the-band-s-rise-and-fall-heroin-was-the-worst-mistake-we-made-1.4397445
https://www.loudersound.com/news/phil-lynott-calmly-explaining-on-breakfast-tv-that-using-heroin-can-be-very-enjoyable-makes-for-heartbreaking-viewing
https://faroutmagazine.co.uk/thin-lizzy-phil-lynott-death-story/
https://americansongwriter.com/producer-tony-visconti-opens-up-about-his-fears-surrounding-phil-lynotts-drug-use/
https://www.thefreelibrary.com/Phil+tried+to+bed+Paula+while+Bob+was+being+sick+in+the+bathroom%3B…-a0245843470
https://www.dublinlive.ie/news/dublin-news/phil-lynotts-most-controversial-moments-21358253
https://www.loudersound.com/news/phil-lynott-calmly-explaining-on-breakfast-tv-that-using-heroin-can-be-very-enjoyable-makes-for-heartbreaking-viewing