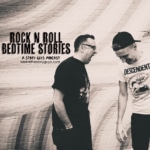 The guys trace the unlikely story of one of modern pop music's most enduring melodies – from folk singing exercise to it's place in streaming music history.
This episode brought to you in part by Louder Than Life Music Festival.
Louder Than Life
America's Biggest Rock Festival
Louisville, KY September 21-24, 2023
Highland Festival Grounds At Kentucky Exposition Center
Foo Fighters, Green Day, Tool, Avenged Sevenfold,
Godsmack, Pantera, Queens Of The Stone Age, Weezer,
Limp Bizkit, Megadeth, Rancid, Turnstile & More
General Admission And VIP Passes On Sale Now
Starting At $10 Down
Win Louder Than Life tickets by entering HERE!
Support the show on Patreon: https://www.patreon.com/rocknrollbedtimestories
SHOW NOTES:
"Seinfeld Theme" by Jonathan Wolff, "Tom's Diner," "Tom's Diner (Reprise)," "Luka" by Suzanne Vega
https://diffuser.fm/suzanne-vega-toms-diner/
https://en.wikipedia.org/wiki/Suzanne_Vega
https://en.wikipedia.org/wiki/Fast_Folk
https://folkways.si.edu/fast-folk-musical-magazine-vol-1-no-1/american-folk/music/album/smithsonian
https://www.nytimes.com/1982/03/05/arts/greenwich-village-is-again-a-magnet-for-folk-singers.html
https://www.brianrose.com/journal/2006/08/new-yorksuzanne-vega.html
https://www.brianrose.com/hardy/hardy.htm
https://www.highroadtouring.com/artists/suzanne-vega/
https://archive.nytimes.com/opinionator.blogs.nytimes.com/2008/09/23/toms-essay/
https://www.passionweiss.com/2021/02/02/1nce-again-suzanne-vega-toms-diner-dna-remix/
https://www.whosampled.com/Suzanne-Vega/Tom%27s-Diner/sampled/
https://www.mentalfloss.com/article/19727/how-toms-diner-tuned-mp3