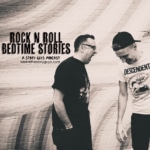 Brian takes the bait and falls down the Andrew W.K. conspiracy theory wormhole. Is the "Party Hard" maven an actual person or an industry plant from one of rock n roll's legendary drummers?
This episode is brought to you by OMIO. Get 5% off your next booking when you use the code LISTENR5 at check out.
SHOW NOTES:
The Gawker story: https://gawker.com/5439943/andrew-wk-and-the-problem-of-identity
The Reddit write-up: https://www.reddit.com/r/UnresolvedMysteries/comments/7stqax/conspiracy_to_party_who_is_andrew_wk/
AWK Wiki: https://en.wikipedia.org/wiki/Andrew_W.K.
Larry King interview: https://www.youtube.com/watch?v=8-AMMqy5ohw
The weird Weebly site: http://what-happened-to-awk.weebly.com/beyond.html
Rick Ross: https://en.wikipedia.org/wiki/Rick_Ross
JT Leroy: https://en.wikipedia.org/wiki/JT_LeRoy
Andrew WK live in Pamona: https://www.youtube.com/watch?v=ycAerv1-0ys