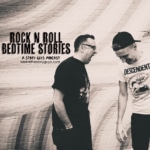 Brian and Murdock detail the beautifully dysfunctional relationship that shaped late-70's punk and glam – Iggy Pop and David Bowie – and talk about that time Iggy started a fight with a bunch of motorcycle guys.
This episode brought to you in part by Db. Visit here and use the code POD10 for 10% off.
RNRBS' original theme is "Counterpointless" by Hark the Herald. Hear their entire 2008 release Aroura here.
SHOW NOTES:
Songs played in this episode: Davey Jones and King Bees – Liza Jane; David Bowie – Uncle Arthur; The Stooges – Cock in my Pocket
https://en.wikipedia.org/wiki/Iggy_Pop
https://faroutmagazine.co.uk/iggy-pop-david-bowie-dennis-hopper-cocaine-rehab-story/
https://www.grunge.com/220987/the-truth-about-iggy-pop-and-david-bowies-relationship/
https://en.wikipedia.org/wiki/Liza_Jane_(David_Bowie_song)
https://en.wikipedia.org/wiki/Stardust_(2020_film)
https://www.boweryboyshistory.com/2009/03/maxs-kansas-city-new-yorks-celebrity.html
https://en.wikipedia.org/wiki/Raw_Power
Classic photos of Bowie and Iggy: https://art-sheep.com/rare-old-photos-of-david-bowie-and-iggy-pops-friendship-2/
https://calendar.songfacts.com/february/4/19352
https://listverse.com/2012/09/11/top-10-true-rock-music-stories/